CLEANING AGENTS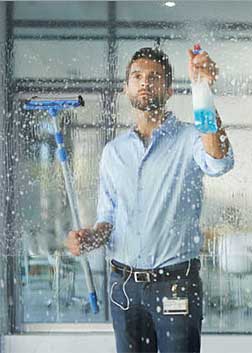 INWEXOL APPM
A strongly alkaline, foaming cleaning agent for contact-free cleaning of heavily soiled surfaces under pressure. Removes grease, stubborn oils, lubricants, polishing pastes, flammable and non-flammable solvents and inorganic dirt. Can be used for immersion degreasing. Recommended for cleaning iron parts and its alloys, spray nozzles, elements of hydraulic systems and tarpaulins.
Caution: Avoid contact with aluminium at a concentration > 5 %.
INWEXOL APPM/R
Strongly alkaline, highly foaming cleaning agent for contactless cleaning in high-pressure devices of the Karcher type. It removes asphalt, grease, baked-on oils, lubricants, resins, flammable and non-flammable solvents, inorganic dirt from hard, heavily soiled surfaces with relatively high resistance to conventional detergents and alkali. Activates sprayed surfaces. It protects them against corrosion and entirely eliminates bacterial and fungal flora.
INWEXOL APPM/R is perfect for cleaning heavily soiled iron parts, engines, tarpaulins, bathtubs, sinks and other sanitary equipment. It can also be used in the kitchen to clean heavily soiled dishes, ceramic wall tiles, floor tiles, laminated shelves, extractor hoods over gas cookers, floor coverings, PVC tiles and others. Hot water is not required.
INWEXOL APPM/R can be used with hot water to wash road and rail tankers of a variety of petrochemical or chemical residues.
Used alternately with INWEXOL SEM-50/F it is an excellent washing composition for installations contaminated with asphalt, mazut and heavy oil fractions.
INWEXOL G30
An emulsifying and washing concentrate intended for precise cleaning and degreasing of construction elements, details made of stainless steel – painted with paints other than water-permeable, acid-resistant steel, non-ferrous metals, aluminium, plastics, surfaces painted with paints other than water-permeable and glass. It can be used for external and internal washing of rolling stock and railway components as well as for washing petrochemical installations heavily contaminated with oil residues, including gudron and asphalt residues.
INWEXOL EM
An emulsifying and washing concentrate intended for cleaning and degreasing mainly metal details, plastics, installations and technological equipment. It perfectly removes organic impurities (fats, oils, waxes, resins, carbohydrates) and inorganic impurities and, at the same time, protects steel elements against corrosion.
INWEXOL EMI
An emulsifying, washing and inhibiting concentrate intended for precision cleaning and degreasing of mainly metal details, plastics, installations, equipment and technological lines in water solutions and as an additive to emulsion and alkaline baths in the process of chemical and electrochemical degreasing. It is also an excellent etching inhibitor and degreaser in acid baths.
INWEXOL SEM-8/M
An emulsifying and washing agent for preparing emulsion degreasing and washing baths in chemical degreasing processes, immersion or spraying. Recommended for cleaning ferrous and non-ferrous metals and aluminium castings from residues of separating agents. Removes mainly organic impurities: oils, greases, polishing pastes. Based on the environmentally friendly organic solvent. Allows degreasing at room temperature.
Caution: The preparations cannot be used for electrochemical degreasing.
INWEXOL 71/S
Strongly alkaline, degreasing and cleaning concentrate for preparing water baths for chemical and electrochemical degreasing. It removes oils, greases, waxes, coolant residues and temporary protection layers. Can be used for spray cleaning.
INWEXOL BET
It is an effective, efficient and fast-acting preparation for removing dirt from cement and concrete. It perfectly removes cement residues from concrete batching plants, cement trucks ("pearls"), concrete mixers and other construction equipment.
INWEXOL BET has excellent cleaning properties against inorganic dirt and dirt containing organic components. It is used for everyday and basic cleaning of acid-resistant surfaces in production processes.
INWEXOL MULTI
Highly concentrated cleaning preparation. Active wetting agents help to remove light grease and dirt from all surfaces. Can be used in households, living areas, industrial plants and engine rooms on ships.
INWEXOL ALU
The cleaning preparation for aluminium, stainless steel and painted surfaces is widely used for cleaning and activating aluminium surfaces that are subject to pre-treatment before priming and applying coatings. It can also be used to remove heavy atmospheric dirt and grime.